The Bored Wine Co. – NFT Wine Meets the Bored Ape Yacht Club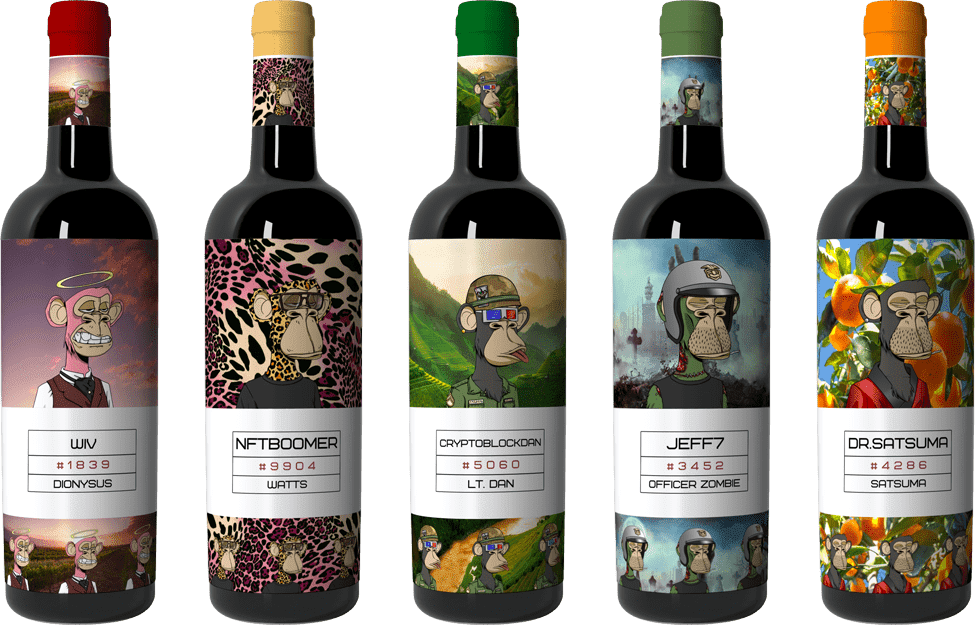 Owners of the Bored Ape Yacht Club NFTs can now print their Bored Ape on a bottle of fine wine. Although not an official BAYC feature, the idea capitalizes on the fact that Bored Ape owners are given full commercial usage rights of their NFT.
What's The Bored Wine Company?
The Bored Wine Company (no affiliation to Bored Ape Yacht Club) has collaborated with WiV to create NFTs that correspond to physical bottles of rare wine.
It's not the first wine NFT we've seen, however, they've added an interesting element that could make these NFT wines actually desired on OpenSea: they're putting Bored Apes on the wine label.
Second in total sales volume only to CryptoPunks, Bored Ape Yacht Club is one of the most well-known and sought-after collections of NFTs. So it makes sense why WiV and the Bored Wine Company chose BAYC for this marketing stunt.
The Details:
Submit a form proving ownership of an Ape
Grant commercial rights to print your Ape on the bottles, as well as the subsequent NFT artwork
Each BAYC Ape will be assigned production of 7 bottles of wine
6 bottles will be cased and stored for the owner in a secure cellar
1 bottle will be placed in the Bored Wine Company Vault for future projects
An NFT will be minted that represents the stored case of wine, thus becoming a tradeable asset in its own right
The Cost:
Nothing. You can give your Ape's commercial rights to the Bored Wine Company for free… obviously
However, it costs 0.3 ETH to claim your case of wine, your NFT, and the physical bottle
Will these Bored Wine NFTs become desired investments on the secondary market?
Initially I wouldn't think so. Seems to me that WiV and the Bored Wine Company are getting the better bargain than the ape owners themselves.
However, they could prove me wrong. After all, their website states that they're sourcing the world's best wines for this project. And the Bored Ape brand is quite strong, which could translate to the value of these wine collectibles.
NFT Brand Marketing & Merchandising
Most likely, the Bored Ape brand is stronger than the brand of wine that's inside these bottles. And because it's become such a strong brand, it's a given that other brand-less or weak brands will hijack the Bored Ape brand for their marketing.
We already saw it a couple months ago with the Bored Ape IPA by Northpoint Brewing.
Not to mention, many anonymous NFT collectors have adopted the brands of NFTs they've collected. For instance, there are two NFT Whales who have branded their identity as the CryptoPunk they own: Punk4023 and Punk4156.
NFTs are branding agents themselves. Which is why we're going to continue seeing products (both physical and digital) ride the brands of popular NFTs.
Collectors want to show off their collections. No matter what people collect, this is just a given fact. But printing digital art on physical merchandise is entirely counterintuitive to the purpose of NFTs – which is to secure and create value for a digital file.
However, there's something to be said about ancillary promotions like this generating interest and lifting the valuations of the original NFTs.
It's a constant uphill battle keeping people interested in an NFT project. Maybe not the case for the top tier NFT projects. But for others, these NFT merchandising promotions will be a way to spread their brand to a wider audience.
NFT projects need to keep their collectors delighted. And merchandising is the path of least resistance.
Not many people talk about the brand marketing of NFTs. However, I'm a firm believer that some of these NFT brands are going to supersede NFTs themselves – blossoming into companies and products. But only the ones that can stand the test of time.
Ready to Learn About NFTs?
Join 11,000+ readers of NFT QT, a weekly newsletter packed with tips and actionable insights for people fascinated with NFTs just like you.