Will OpenSea Still Be the Dominant NFT Marketplace Next Year?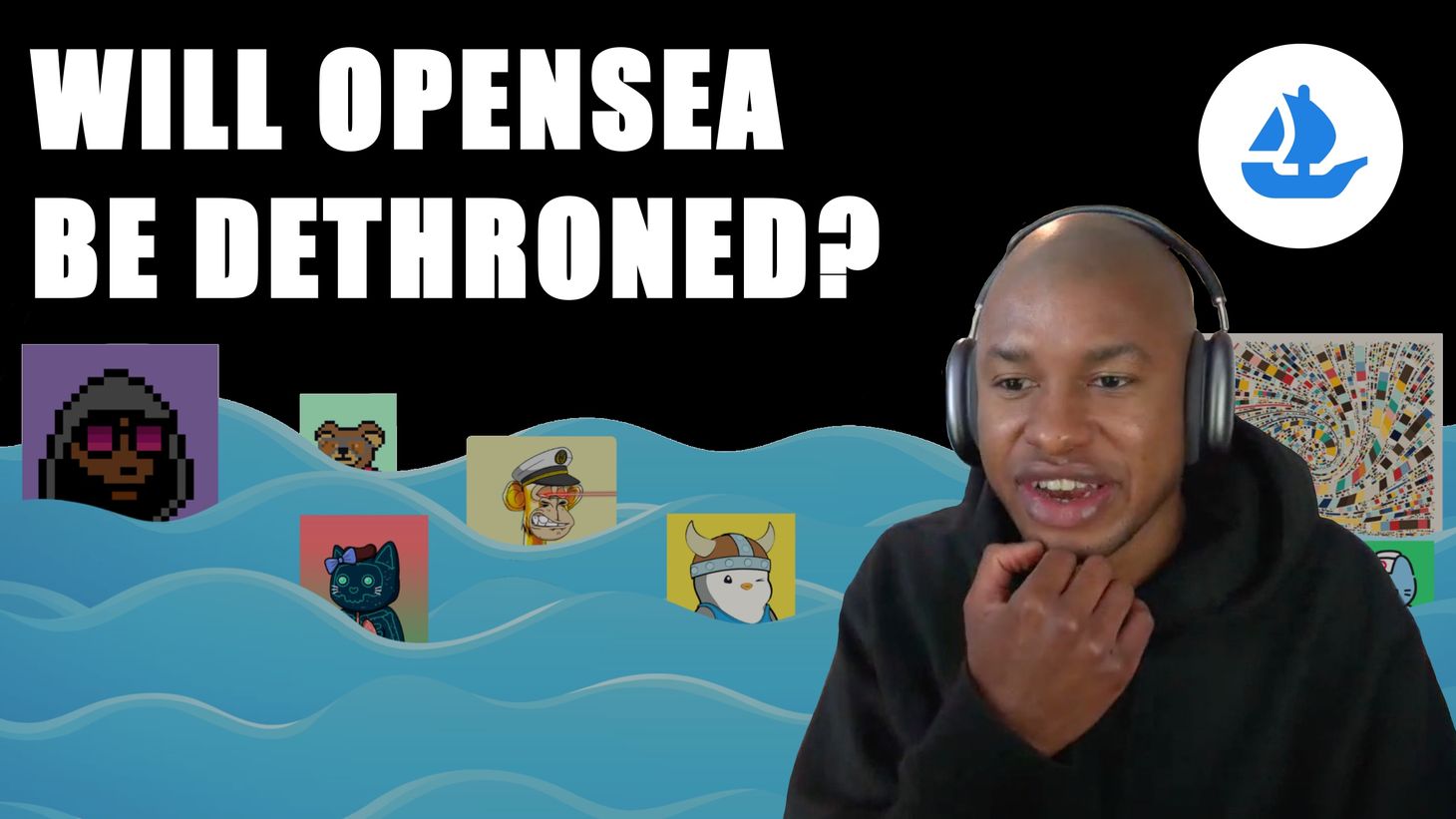 It's no secret that OpenSea dominates the NFT market. Boardroom places OpenSea's total NFT market share at around 60%. They're the most talked about, the most used, and largely people's entry point into NFTs. 12 months into the NFT craze (and just a half-decade into modern NFTs), OpenSea commands the pole position of influence. However, let's not forget the dozens of search engines that came before Google or eBay's eCommerce dominance before Amazon came along.
OpenSea's dominance is far from safe, though.
LooksRare has given OpenSea a run for their money all of January 2022, vastly outpacing OpenSea's share of NFT sales. LooksRare's rise was quite the shocker. We should note, though, that because of the incentive structure they've put in place to steal users from OpenSea, there's a lot of wash trading going on – which is basically the act of buying/selling NFTs between a user's own wallets. So their success isn't entirely natural.
The likelihood that a single marketplace will replace OpenSea in one fell swoop is unlikely.
On the other hand, as the NFT market matures, the need for specialized marketplaces will only grow. While these specialized NFT marketplaces likely won't surpass OpenSea, the aggregation of them creates a meaningful dent in OpenSea. Just like Amazon versus Shopify.
Amazon is the Everything Store, whereas Shopify stores are much more specialized. Every time a merchant chooses to create their own Shopify store, they steal business away from Amazon. In a silo, no single Shopify store is that meaningful in comparison to Amazon's bottom line. But in aggregation, we're talking about over a hundred billion dollars that Amazon loses out on.
The specialization of NFT marketplaces has been underway for some time:
Foundation, Nifty Gateway, and SuperRare command the art market
Catalog, Royal, and Audius are after the music market
SkinFlip and Fractal eye the in-game assets market
Autograph and Candy Digital are after the sports collectibles market
Axie Infinity and NBA Top Shot exist in their own silos
Xtingles is paving the path for ASMR NFTs
There's a lot of NFT marketplace specialization going on. So much that I can really only give you a taste.
In today's video, we discuss the possibility of an "OpenSea Killer" – an NFT marketplace that is far superior to OpenSea in every way that they replace them entirely. We also touch on the types of features that the market is calling for which could be incorporated into this OpenSea Killer.
Undoubtedly, it's going to be interesting to see how this all shakes out in the next year or two. Grab your popcorn and enjoy the show because competition is heating up.
We talk about this concept in greater detail on Episode 25 of the NFT QT Show – 6 Ideas that Will Influence the Future of NFTs –  which you can watch here: https://youtu.be/bBPOJbyDErw
Ready to Learn About NFTs?
Join 11,000+ readers of NFT QT, a weekly newsletter packed with tips and actionable insights for people fascinated with NFTs just like you.