The Meeting Place NFT – Designing Readymade Networking Spaces in the Metaverse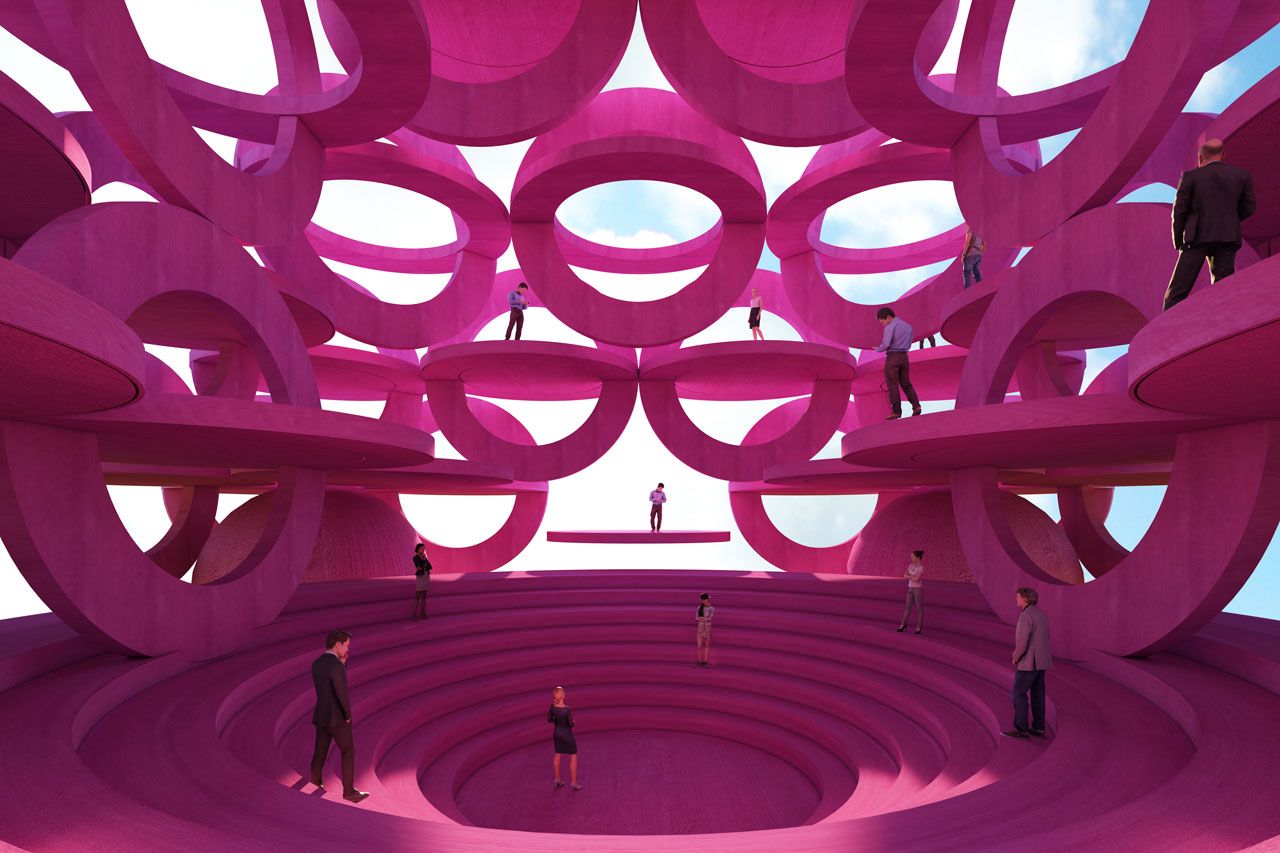 It's no secret that many people in the NFT space are changing focus to the metaverse and these shared virtual landscapes. It's for that reason that I've talked about the need for creators to begin designing and selling Readymade Virtual Estates, which make it easy on existing brands and communities to quickly adopt and integrate a dedicated space in places like Decentraland, Somnium Space, Crypto Voxels, or The Sandbox.
Aside from Delta Reality which I profiled here, another team ahead of this trend is Cyril Lancelin and Benny Or with The Meeting Place.
The Meeting Place for Designers
The Meeting Place is a readymade work and play space anchored in virtual reality that is being sold as an NFT. The purpose is to offer not only a visually-appealing piece of virtual architecture, but also a building that can be deployed in many virtual worlds and utilized as a meeting ground for designers and other professionals.
It was created and integrated with Spatial, a 3D design and AR/VR platform that makes it easy to design and deploy spaces in virtual worlds.
Directionally, the project is heading the proper way for metaverse creation. To create a dedicated space for a specific group of people is the right way to think about these new virtual worlds.
Like any new platform, virtual worlds must offer reliable and sticky experiences for users to want to come back and visit frequently. It starts with one reason. For example, I visit YouTube for the NBA highlights but end up sticking around for the cooking videos and old recordings of comedians interacting with Johnny Carson.
Now, The Meeting Place hasn't been sold yet. Perhaps it's the reserve price of 26 ETH. More likely it's the ensuing contract the buyer agrees to, which reserves all IP in The Meeting Place to the creators: Cyril Lancelin and Benny Or. In my opinion, the contract is regressive when we think about these open virtual worlds as a place for collaboration and the ability to pass IP along to others easily.
Nonetheless, I do believe that it's heading in the right direction of offering a place for designers to convene. Not to mention, the project is backed by Krista Kim, a designer that is known for designing and selling a digital house in SuperWorld for 288 ETH.
Spatial's Position as Airbnb for the Metaverse
Another interesting storyline that is related to this project is Spatial, the platform that was early to creating VR meeting rooms for companies. During the NFT frenzy of the past year, more and more of Spatial's users began using the platform to create NFT galleries and sell their artwork. So Spatial has switched gears.
They're now creating more tools for creators to design virtual spaces either to be sold as NFTs or to enhance their NFT experiences. For example, the Utah Jazz are using Spatial to house their virtual locker room that their NFT holders can access for exclusive Jazz experiences. (More about Spatial's new positioning here)
It appears that more and more people are sharing my idea of Readymade Virtual Estates – which I believe will accelerate the creation and adoption of virtual worlds.
Ready to Learn About NFTs?
Join 11,000+ readers of NFT QT, a weekly newsletter packed with tips and actionable insights for people fascinated with NFTs just like you.