I wrote a book. That book rewards you with crypto. And you're the first to know.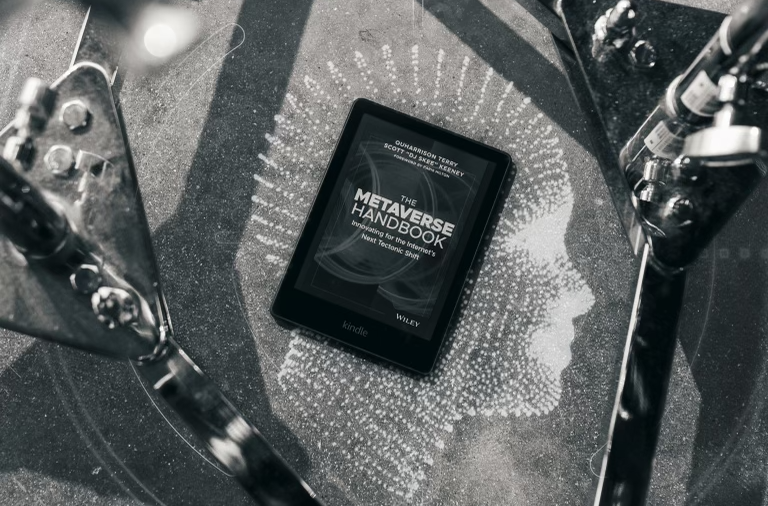 When I finally sat down to write The Metaverse Handbook this past winter, my mission was clear: help readers make sense of the Metaverse.
Every day I read a new story about an early Metaverse adopter making money in some absurd way.
Like the story of Joe Hunting, a filmmaker who filmed an entire documentary in VRChat called We Met in Virtual Reality, which was later selected for the Sundance Film Festival.
Or the story of Robert Doyle, a real estate agent who began investing in income-producing metaverse businesses such as a virtual car repair shop and a virtual bank in a Metaverse called Polka City.
What these two stories (and the hundreds of other Metaverse case studies out there) have in common is that they don't help the people who have zero knowledge of the Metaverse; the people who lack a foundational understanding of what the Metaverse is, and therefore, cannot even begin to try to follow in the shoes of these Metaverse go-getters.
And so I wrote The Metaverse Handbook – a simple guide to understanding the Metaverse for non-technical readers. And starting today, you can…
Order The Metaverse Handbook and receive it on release day – Tuesday, May 24th, 2022.
Why You Should Order The Metaverse Handbook
There is a multitude of reasons that I believe you should order The Metaverse Handbook today. In order of importance, the reasons you should buy my book are:
You need to understand how the Metaverse is changing the Internet – There's not a single company, brand, or individual that won't be impacted by the Metaverse (or what I like to call The Immersive Web). And more likely than not, one of your competitors is thinking deeply about their Metaverse strategy.
You won't find a more comprehensive and approachable resource on the Metaverse – Believe me, I've read all of the books and blogs about the Metaverse. And what I wrote is the most complete thought on the subject. I couldn't have done it without my incredible publisher, Wiley, my thought-provoking co-author, Scott "DJ SKEE" Keeney, and a wonderful foreword by Paris Hilton.
You will be rewarded for supporting my book before Tuesday, May 24th – As a promotion for all of my early supporters, anyone that buys The Metaverse Handbook before Tuesday, May 24th will receive an allotment of $1Q9X tokens. Below, you'll find more information on why I'm doing this and how you can claim your $1Q9X tokens.
Buy the Book, Receive Your $1Q9X Tokens
I'm a firm believer that social tokens (or creator coins) will be a major part of the Metaverse economy. Basically, these are cryptocurrencies that are tied closely to a single person, giving them the ability to create reward mechanisms for their supporters and their fans.
That's why I'm launching the $1Q9X social token with a company called Roll. They're the leading blockchain infrastructure for designing and deploying social tokens. Notably, they created $WHALE – the top social token backed by WhaleShark's massive NFT collection.
Broadly speaking, I'll be using the $1Q9X cryptocurrency in tandem with my next business venture (launching late July/early August). And the $1Q9X token will allow you to participate in that endeavor. If you want to hear more specifics on the $1Q9X token, then join my Twitter Spaces talk with Roll on Wednesday, May 18th at 1pm EST.
All you need to know right now about the $1Q9X token is that if you show me support by buying The Metaverse Handbook, then I'm rewarding you with ten $1Q9X tokens. It's quite simple. Here are the steps:
Order The Metaverse Handbook
Fill out the form on MetaverseHandbook.com/1q9x
You're now eligible to receive your allotment of $1Q9X tokens
The number of $1Q9X tokens you receive is tied to how many books you purchase. Let me say that again. The more books you buy, the more $1Q9X tokens you will be gifted!
With my previous best-seller The NFT Handbook, I quickly found that people were ordering in bulk for their employees and teammates, for their school districts, and for holiday/birthday gifts. After all, isn't The Gift of Knowledge the best gift of all?
No matter the number of books you buy, I will be honoring the $1Q9X token rewards proportional to your purchase.
Also, if you're interested in purchasing 30+ books at once, then please email me directly for a bulk purchasing rate. (I can get you a better deal than the list price and Amazon caps you at 30 books).
There's one small caveat: I'm only offering the $1Q9X token reward until Tuesday, May 24th at 11:59pm CDT.
I realize this doesn't give you a lot of time to make a decision. But if we've learned anything about the world of crypto over the last six-plus years, it's that there's never enough time to make a decision on buying/selling crypto. So if you want in, then get in.
Although the contents of The Metaverse Handbook are relevant to what I'll be building with the $1Q9X token, ultimately, I want you to buy The Metaverse Handbook because you want to learn about the Metaverse. And I truly poured some of my best future thinking into this book.
Why I Wrote The Metaverse Handbook
When it comes to making a decision about buying a book, we generally care about who wrote the book, what's in the book, and how it's written. The answer to all of those questions can be found at metaversehandbook.com.
What that page doesn't cover is WHY I wrote the book. And on that note, I have three reasons.
Nobody Was Talking About Culture in the Metaverse
Culture crafts society. Without culture, no single technology would catch on. The Metaverse is no different. It needs culture in order to be cool. And once it's cool, then people will use it.
Despite this simple equation, you'd be hard-pressed to find any Metaverse blogs or books that dissect the importance of culture in the Metaverse. Until you pick up your copy of The Metaverse Handbook, of course.
That's why I brought on DJ SKEE as my co-author. For the last two decades, DJ SKEE has been at the epicenter of driving culture forward in sneakers, tech, sports, and music. Today, he's building metaverses for the brands that are at the center of worldwide culture. SKEE was the best co-author for the job.
Additionally, Metaverse culture is why we asked Paris Hilton to write the forward. Not only is she responsible for creating the culture of Internet Influencers, but she's also making huge strides in Paris World, (her Roblox Metaverse). For example, Paris threw a New Year's Eve bash in Paris World which had more attendees than Times Square did on NYE. Talk about being culturally relevant in the Metaverse.
Ultimately, culture is the main ingredient that will transform the Metaverse from a techie fantasy into the next great digital gathering space. And so we wrote The Metaverse Handbook with a major emphasis on the subcultures emerging in the Metaverse, as well as in what ways popular culture is taking notice of the Metaverse.
Black Representation is Needed in Emerging Tech
I grew up in Milwaukee, Wisconsin – a city where the crime rate is scarier than the poverty rate. I'm not going to beat around the bush, literally, all of my close childhood friends are dead. And that's a reality for a lot of successful young black men like me.
Furthermore, when you hear of Apple or Amazon building their second or third headquarters, places like Milwaukee are never on the shortlist of destinations. It's not as if we have tech companies craving our employment.
So when you come from a place where the opportunities to make something of yourself are minimal, just simply making it out is an achievement. But for me, making it out is not enough. I want to show the next generation of QuHarrison's a new path they can take. Perhaps a path that they hadn't considered before.
When we hear black people talking about tech, oftentimes they're talking about yesterday's technology. They're not talking about tomorrow's technology.
With The Metaverse Handbook, I'm setting an example that we don't have to play catch-up. We can be at the forefront of emerging technologies too.
A Blog Post Wasn't Going to Cut It
There's a major difference between a blog post and a book. And I'm not referring to the length of the writing. Rather, the amount of input that you get when you write a book is unmatched by a blog.
When you decide to write a book, you're agreeing to let others touch that product. You're giving publishers a chance to put their name on the cover and therefore they must be as proud of the product as the author is.
Here are all of the checks and balances a blog post doesn't go through:
A 40+ page book proposal
Market research and positioning for maximum impact
Dozens of strategy sessions to drill down on the book's contents
Hundreds of hours of writing, rewriting, scrapping ideas, and writing again
A technical edit
A grammatical edit
Final additions from the authors
Another technical and grammatical edit
By working with John Wiley & Sons (my publisher), what we got with The Metaverse Handbook was an entire team of future thinkers providing input into what would make the book better, easier to read, and more impactful for the reader.
When all of that goes as planned, the result is a book that everyone who contributed is proud of. A book that they know says something worthwhile. And a book that will spread the knowledge you want others to have. That is exactly what we accomplished with The Metaverse Handbook.
With that being said, I hope that I've made a compelling case as to why The Metaverse Handbook is the book for you. And so for one last time, you can order your copy of The Metaverse Handbook here.
Ready to Learn About NFTs?
Join 11,000+ readers of NFT QT, a weekly newsletter packed with tips and actionable insights for people fascinated with NFTs just like you.