Fortune NFT – Selling Magazine Covers as NFTs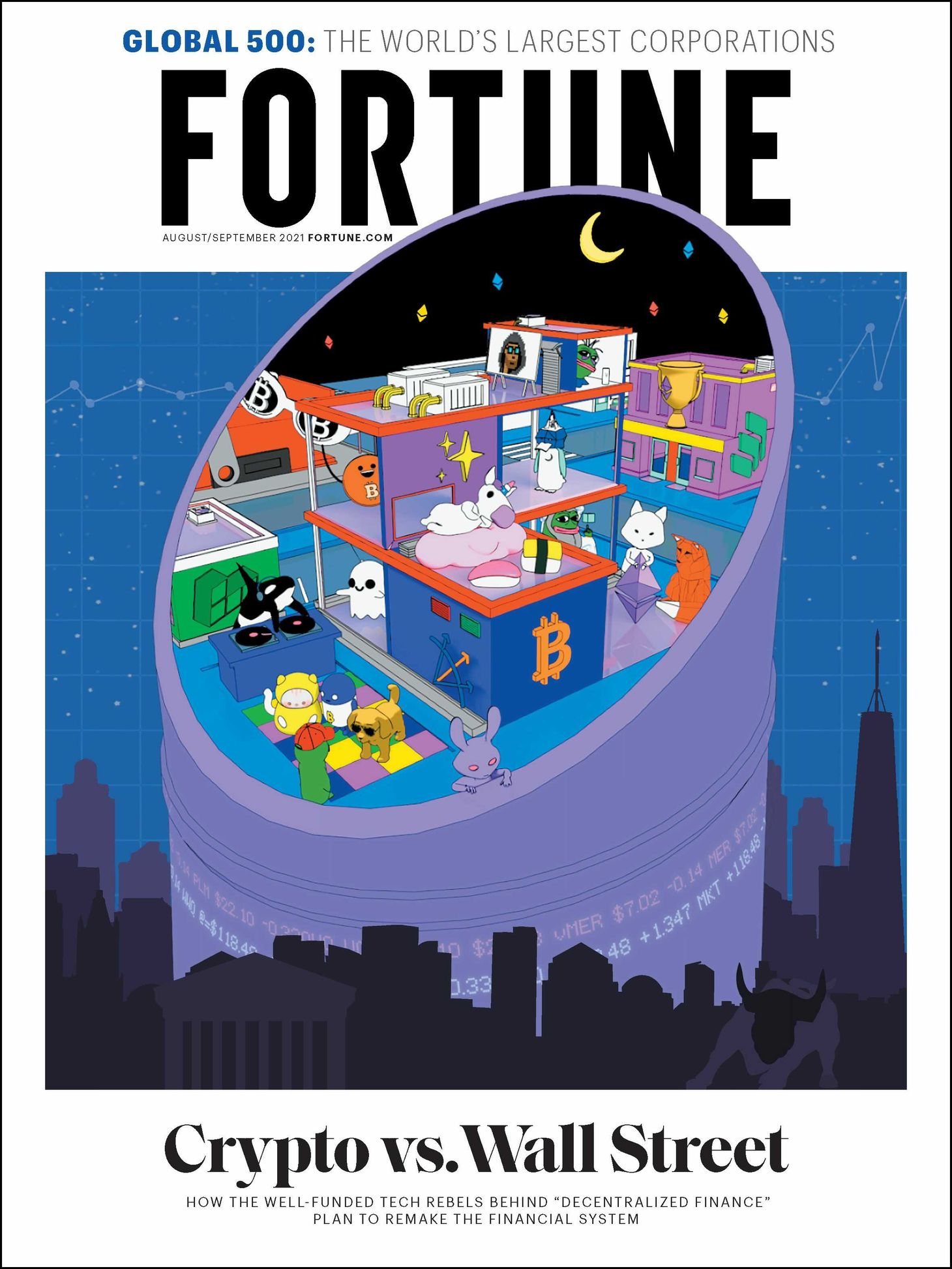 Fortune Magazine released their first NFT magazine covers in collaboration with the popular artist pplpleasr. Fortune saw that the NFT auction and physical magazine were released simultaneously, making it a fascinating case study on coordinated media releases of NFT and non-NFT products.
What's The Fortune NFT?
Fortune's latest magazine issue features "Crypto vs. Wall Street" as the cover story. The cover art was designed by pplpleasr, a designer whose x*y=k NFT previously sold for 310 ETH and sits at number #69 on the All-Time Top 100 NFT Sales list.
Not only did pplpleasr design the physical cover, but she also created an animated digital version of the cover which is being listed as NFTs.
The Fortune NFT drop is as follows:
256 editions of "aspiring chad" – the base animated cover
3 separate 1/1 auctions on "chad 1", "chad 2", and "chad 3"
So far, Fortune has done over 1,600 ETH in transaction volume on the entire 259 NFT collection. And I would boldly state this success was driven entirely by pplpleasr's reputation – who is one of the forerunners of decentralized finance and even inspired the creation pleasrDAO (worth reading up on).
From what I've researched, it's the first NFT artist to individually design a magazine cover at this high of a level. Previously, Yoshi Sodeoka (an NFT artist) collaborated with a photographer on the cover of the Forbes issue "A New Billionaire Every Day", which was sold as a 1/1 NFT for $333k.
Furthermore, Fortune isn't the first publication to drop NFTs successfully.
Time sold three NFT versions of its famous 1966 cover, "Is God Dead?," "Is Truth Dead?" and "Is Fiat Dead?" for a total of 241 ETH.
Kevin Roose, a contributor to The New York Times, sold his article titled "Buy this column on the blockchain" for 350 ETH.
But it's not the idea of magazine-meets-NFTs that fascinates me. It's really the coordinated media release of the physical and the digital product simultaneously.
Why Is It Interesting?
I'm fascinated by the concept of pairing traditional media with NFTs. I think a lot of people are. That's why there are projects like Punks Comic that are releasing their comic book as an NFT. That's why Tory Lanez sold copies of his album for $1 as NFTs. NFTs are reinvigorating traditional media.
But what if NFTs don't have to replace physical or traditional media products?
Fortune released their new magazine issue at the same time they dropped the NFTs. And neither took away from the other. If anything, it built interest around both products. It was a coordinated media release.
I believe coordinated releases of media products (both the NFT version and non-NFT version) are going to be a playbook used by movie studios, streaming providers, book publishers, and many more media incumbents.
How can NFT sales drive interest in a media product?
Space Jam released their free NFTs around the same time as their movie release, which acted as an additional marketing vehicle for the movie. Fortune released their NFTs as an additional source of revenue but consequently drove interest to buy the physical magazine because the NFT sale was such a success.
I don't think that NFT and non-NFT media products need to be mutually exclusive and separately released. They can be symbiotic in the way they work together to get eyeballs and dollars.
Although it's a few months away still, you can expect me to do a coordinated media release of my upcoming book with Wiley – The NFT Handbook. I'd like to show other authors the way forward of combining NFTs with a book. So stay tuned.
Ready to Learn About NFTs?
Join 11,000+ readers of NFT QT, a weekly newsletter packed with tips and actionable insights for people fascinated with NFTs just like you.