Club CPG – What I Learned from Their Well-Executed NFT Drop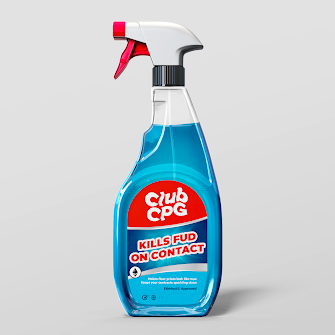 It's no secret that we're bullish on Access NFTs. Some of our favorite NFTs are access tokens and we like covering new tools that turn NFTs into digital keys.
Recently, another NFT-based club caught our attention. It goes by the name Club CPG, where the CPG stands for Crypto Packaged Goods (great play on words, by the way).
What is Club CPG?
Club CPG is a networking and mentorship community for people interested in the intersection of crypto and consumer. The 250 NFTs they've issued act as access tokens into their private Telegram community.
Originally, what caught my attention with them was the design of their NFTs, which takes household objects (consumer packaged goods) and rebrands them with the Club CPG branding.
When I was designing the NFT QT collection of NFTs, I was fascinated by DigiPhysical goods. Basically the concept of creating digital objects that can be imported into virtual worlds as items. While it doesn't look like Club CPG's NFT files are formatted as DigiPhysical goods, per se. They have the direction right.
To date, their collection has done very well.
Over 150 ETH in resales on OpenSea
Floor price currently hovers around 1.5 ETH
There are a couple of things I learned from Club CPG that I'd like to share.
What we can learn from Club CPG
In comparison to other communities with access NFTs, Club CPG started relatively small with only 250 member passes. Discord and Telegram groups tend to get quite overcrowded very quickly, so I like that they are keeping it intimate and impactful to start.
But it is how they kicked off this project that really intrigues me.
Chris Cantino and Jaime Schmidt, the founders, seeded their community with 50 notable mentors before they released the member passes. They aligned influential voices in their category (crypto-meets-consumer) and airdropped mentor passes to each of them.
A few of the mentors I recognized instantly:
Packy McCormick
Arlan Hamilton
Jack Butcher
Shaan Puri
By seeding their community with people known for providing great insight and value, it became a no-brainer for others to buy the member passes and get access to a private Telegram community with some of their idols.
In many ways, Club CPG's launch strategy reminds me of how conferences fill their speaker list and keynotes with notable professionals in order to sell tickets.

Club CPG just showed us the game for creators that wants to build an NFT-accessed community in literally any professional category.
From fine artists to filmmakers to researchers, I can see creators biting this model of seeding a community with power-thinkers in their respective field – and then releasing a small run of access NFTs for others to join.
I haven't bought a Club CPG member pass, but it's a community I'm really intrigued by. Particularly the Investment Vehicle they're teasing for 2022.
From what I can piece together, it may be some sort of investment syndicate or fund they put together for investing into early crypto and consumer companies.
While it's quite common for PFP projects to set aside a portion of their funds to invest in other NFTs. We haven't yet seen a web3 access token be the gatekeeper for joining an investment fund of some kind. A very interesting vertical if you ask me.
Ready to Learn About NFTs?
Join 11,000+ readers of NFT QT, a weekly newsletter packed with tips and actionable insights for people fascinated with NFTs just like you.